Getting to Grips with Emergency Lighting
In partnership with the Institution of Engineering and Technology (the IET), and part of the successful IET Academy, this is a five hour e-learning course comprising five units. It provides an introduction for a broad audience, covering the key points of emergency lighting in an easy-to-understand fashion for non-lighting experts. It provides a first step toward understanding emergency lighting and its usage, and signposts towards further development which can start individuals on their road toward competence.
By the end of this course you will understand what emergency lighting is and why it is important, and be aware of the scope of standards, legislation, specialist skills, and your responsibilities this entails.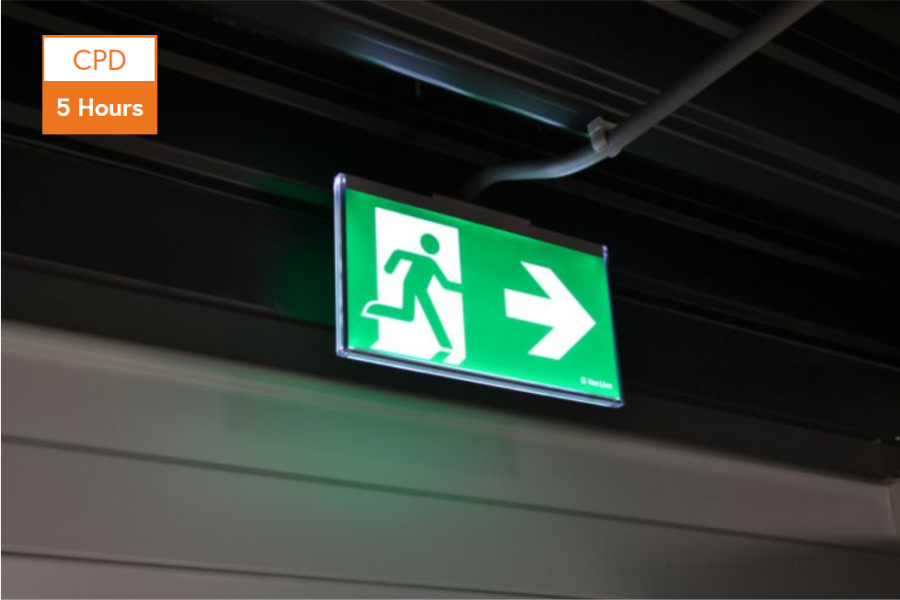 Intermediate Emergency Lighting Risk Assessment
Part of Light Unwrapped's unique blended learning approach, this programme incorporates online materials and live expert tutors. You will take a deep dive into risk assessment for emergency lighting, including risk assessment concepts and techniques that can be applied in the workplace. Whether you are a facilities manager, responsible person, designer or risk assessor, it will help you to develop your understanding of the risks associated with lighting failure and what needs to be considered when mitigating them.
By the end of the course you will understand the importance of risk assessment, key emergency lighting hazards and relevant control measurements, and how to undertake an emergency lighting risk assessment.
Legislation, Design and the Importance of Competence
A two-day face-to-face course with a respected Emergency Lighting designer, you will look at the standards that support good design practice and how to design to those standards. You will apply risk assessment and design frameworks to real examples leading to an understanding of the extents and limitations of design. Finally, exploration of models for competence will start you on a route to proving and maintaining your own competence, a commitment required throughout your emergency lighting career
On completing the course you will be more aware of the limitations of tick box design, the personal and corporate legal risks you face, the duty of care a designer carries and possible routes to improving your competence.